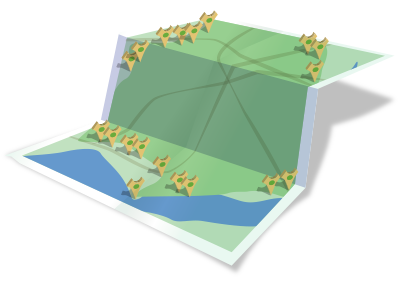 List of New Forest National Park Boundary Markers
A photographic record of New Forest National Park boundary markers. They are made from Douglas Fir in the shape of a stylised oak tree. 45 markers are listed below.

Boundary Markers
About the Markers
Markers tracing the Park boundary have been specially designed and created by the New Forest National Park Authority using wood from sustainable sources. They have been placed at road and footpath entry points to the New Forest National Park all around its perimeter.
Most of the markers have been made from Douglas Fir, known for its durability. Four are made of polycarbonate and there are also a number of zinc disks marking footpath entrances to the New Forest. The marker design conveys the impression of a stylised oak tree. The larger markers are 'ancient oak' trees, and the smaller markers 'young oak' trees.
We found that seeking out the markers was a great way to explore areas of the New Forest that we never knew existed; and we still have a few to find! Below is a list of all the markers we've recorded so far - click on the 'Location Map and Information' for find photos of the markers, pictures of their surroundings and their precise position on a Google Map. Alternatively you can view a map displaying all locations.
Spread the Word
Tweet